One of the services provided to residents of Snohomish Regional Fire & Rescue is a Residential Outdoor Burning Permit program. The program was established by the Board of Fire Commissioners through Resolutions 2017-02 and 2017-08. This program was established to provide a means for our residents to burn legally, in an effort to reduce the incidence of wildfire by offering residents a way to dispose of vegetative yard waste.
Residential outdoor burning is allowed with a permit in areas within the fire district which contain residential dwelling units and are of a lot size substantial enough to support the required setback requirements, and are outside of an Urban Growth Area (UGA). In addition to residential burn permits, recreational fires are allowed as specified below in all areas without a burn permit.
Recreational Burning

— those fires consisting wholly of dry firewood or charcoal at a size not exceeding 3' x 3' x 2' high for the purpose of recreation, cooking, or religious ceremony. Recreational fires are allowed by State Law without a permit, provided some basic rules on the location are recognized. — Additional Regulations —

Residential Burning

— those fires consisting of natural vegetation at a size not exceeding 4' diameter x 3' high for the purpose of disposing of non-commercial yard waste originating on the site. These fires require a permit and may only be conducted on property with a lot size of 13,416 square feet or greater and contain a residence. — Additional Regulations —

Burning Alternative

— below are links regarding alternatives to burning as well as where to find locations where yard waste can be recycled as an alternative to burning.
There is a $25 fee for residential burn permits, and they are issued for a 12-month period from purchase date. Residential burning is prohibited July 1 through August 31 of each year. No permits will be issued during this timeframe, nor during any burn ban. Burn ban status and burn permits may be obtained at www.SRFR.org.
Residents can obtain a burn permit online, or they can call or visit our Main Office (953 Village Way, Monroe, WA 98272 -- 360-794-7666) which is open between 9:00am and 4:00pm Monday through Friday (excluding holidays). Please note that the Main Office is closed for lunch each day from 12:00pm-1:00pm.
Do you have a specific question regarding outdoor burning? Please contact members of our Planning Division at . If you want to report unlawful burning, you must call 911 at the time the burning is occurring.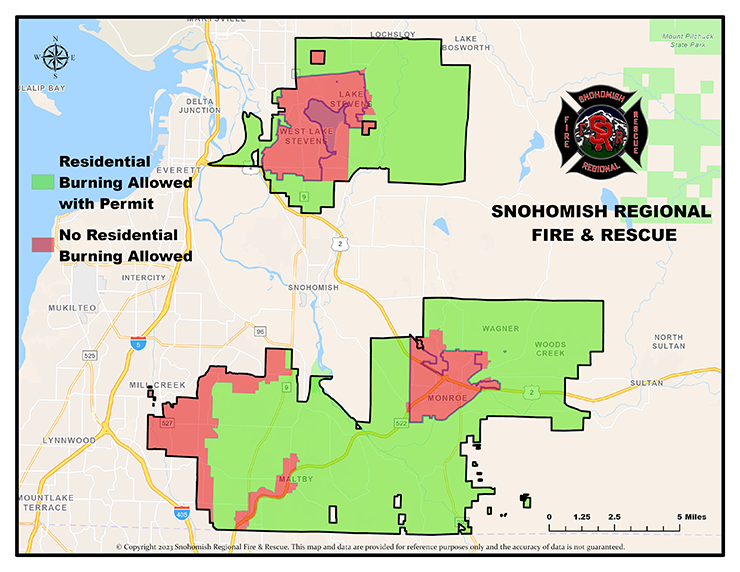 Click image to enlarge
Complaints of outdoor burning violations must be reported to 911.
Violations of outdoor burning rules result in the issuance of Notice of Unlawful burning. Such notices may be forwarded to the Puget Sound Clean Air Agency (PSCAA). PSCAA is the region's air pollution control authority. The PSCAA has the ability to levy civil fines against a property owner for outdoor burning violations. The fire district does not issue fines; however, the PSCAA may. If you have specific questions about outdoor burning, please contact the Community Risk Reduction Division at or 360-805-0338.